Alltop is one of the Best Sites to Submit your Blog and gain More Exposure!
AllTop
helps you to answer your question of "What's Happening and it is done by collecting the headlines of the latest stories from the best sites and blogs that cover a topic. Collections or Aggregations are grouped into individual web pages and then the five most recent headlines and their first paragraph are displayed.
Alltop's goal is to enhance our online reading by displaying stories from sources that we are already visiting and helping us discover new sources to read.
There are four ways you can find a topic in which you are interested:
1. Enter a term in search topic to find topics related to the term
2. Choose a category to view all related topics
3. Click a letter to view alphabetically
4. View every topic alphabetically on one page
Alltop
stuff claims to like to shake thing up and urge people out of their comfort zones so as to take care of their friends 💖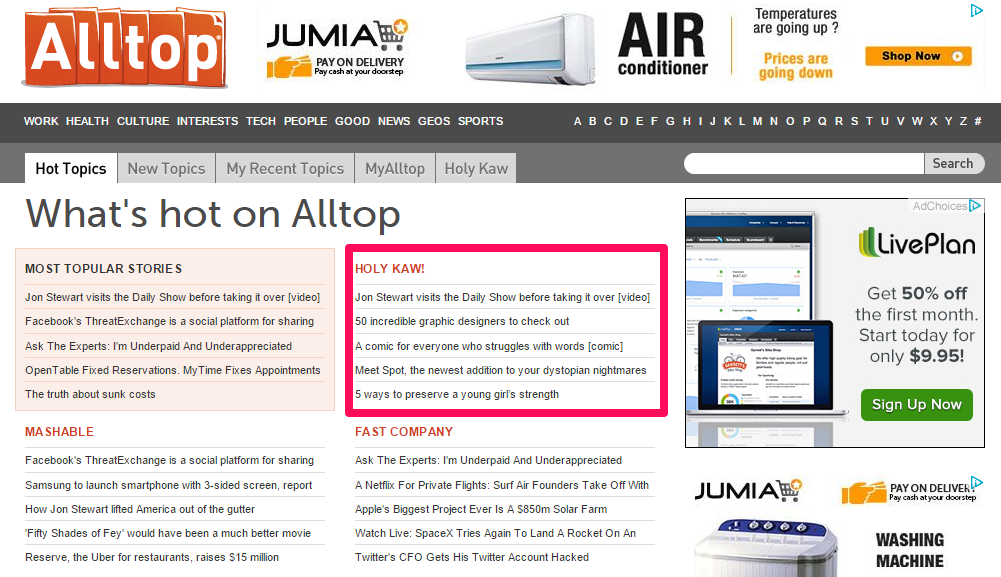 Photo Credit/Neilaptel.com

Alltop
allows Publishers to make Submission of blog/website and these are some of the requirements:
1. Your Blog/Site must have Rss Feed
2. Updated on Regular Basis
3. Have Original Content
4. To be written in English
Link to Submit your site :
AllTop Submissions
Alltop is one of the best Sites to Submit your Blog and gain more Exposure. Boosting your Search Traffic in an awesome way by submitting your Blog to Alltop and not even thinking about link building.
Hint over my AllTop Page and What I love to Read
Lifesayso Alltop Page
Open your Alltop Page add Topic Social Media and add Lifesayso to your List
💕
All Hot News From Social Media Topic
Happy Submission and Readings on AllTop!
Follow @life_sayso
Alltop is one of the Best Sites to Submit your Blog and gain More Exposure!
Reviewed by
Life Sayso
on
5/13/2017 12:55:00 AM
Rating: